abenseibeldesign
Intaglio by Iroquois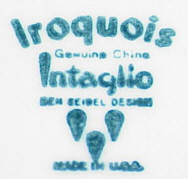 Production Dates:
Approx. 1964
Company literature reads:
" The only cook, bake 'n serve genuine china so durable that it is guaranteed 3 years against breaking, cracking...even chipping*
You'll love its special elegance, its jewel-like motif, its unique sculptured design and its All-Occasion versatility, Cook, bake 'n server in beautiful Intaglio-so durable you can use it every day. Dishwasher-and detergent-proof."
"*Replaced free in accordance with warranty."
Comments:
A really fun short set. Really wish there were more pieces!