abenseibeldesign
Raymor Universal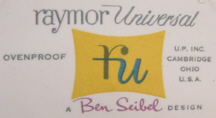 Production dates:
Early to Mid 1950's.
Brochure reads:
"raymor Universal OVENPROOF DINNERWARE with the delicate beauty of China
raymor...the connoisseur of 'modern in the tradition of good taste'
universal...one of the leading dinnerware manufacturers in the world
ben seibel...the designer who put elegance in casual dining
combine to produce raymor-universal
dinnerware with the delicate beauty of china, the stove-to-table practicality of stoneware, the down-to-earthenware price
for the budgeted income homemaker"
"Fine accomplishments in sculptured shapes serve as the background for unique decoration. For the first time...here is dinnerware decorated not by the piece...but with the whole table setting in mind...so that the finished arrangement of plates and serving dishes presents an effect of planned artistry."
Each piece is given an item number. This number, when combined with the series number, allowed the factory to fill the proper order. For example, if a Festive Leaves water pitcher was ordered, the order number would be 2135 (2100 for the Festive Leaves pattern, and 35 for the water pitcher item number).