abenseibeldesign
Raymor Connoisseur by Duncan Miller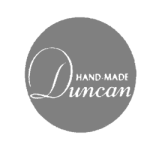 Production Dates:
Designed in 1952, introduced in 1953
Comments:
Found are some original drawings/blueprints from 1952. I am not sure what was actually produced; please let me know what you are finding.
Two memos were contained in the files along with the drawings/blueprints. The first is dated 10/07/52 and discusses the punch bowl; the second, dated 10/15/52 discusses metal accessories and glass samples.
The handles on many items match those on some Raymor Contempora pieces. Was this line meant to complement Raymor Contempora?
Patterns:
Items can be found in three colors: Mocha Brown, Contemporary Crystal and Avocado Green.